DROPSTONE sarl is a Swiss private company established in Geneva in 2013. It provides advisory services to governments, national and local authorities, humanitarian organisations, development agencies, NGOs, foundations and the private sector.
The clients and partners of DROPSTONE are the Geological Survey of Geneva, the Industrial Services of Geneva, the Swiss Agency for Development and Cooperation, the Swiss Humanitarian Aid, the French Agency for Development, the Humanitarian Dialogue Centre, the Carter Centre, the International Committee of the Red-Cross, the Swiss Red Cross, the French Red Cross, the World Health Organization, the World Food Programme, the Geneva Water Hub, the City of Geneva, and AFRY AB.
Besides the region of Geneva, the company has developed activities in 22 countries since 2013, mostly in West and Central Africa, but also in the MENA Region, in Asia, Americas and Europe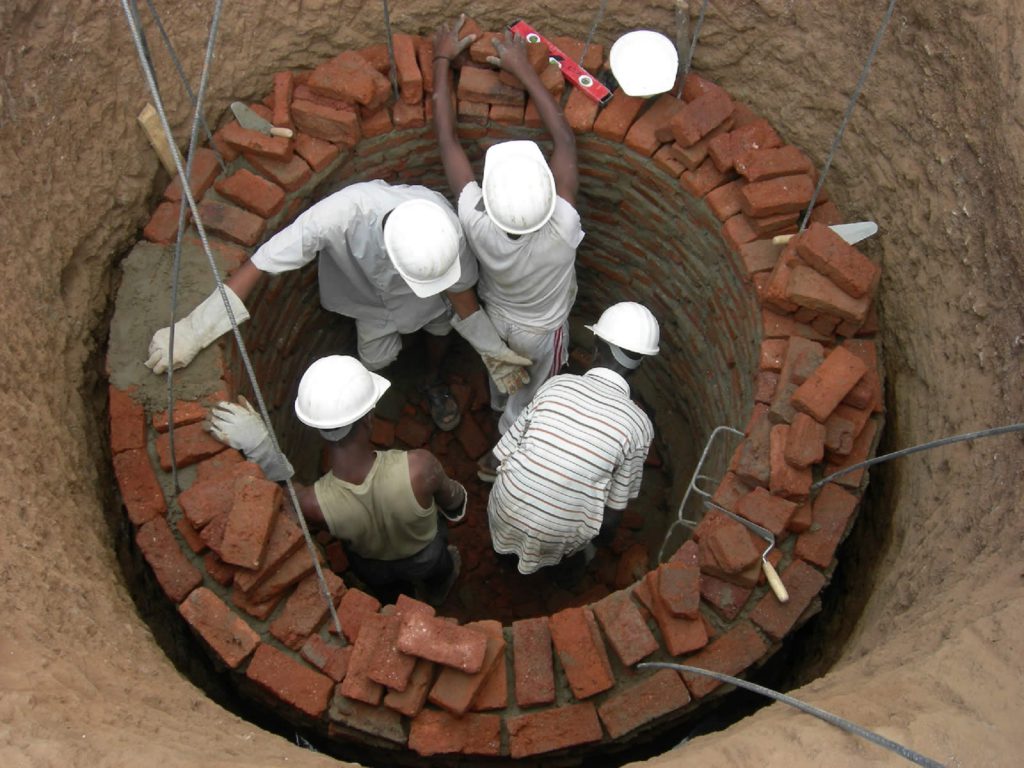 Patrick is a geologist and hydrogeologist by education. He has more than twenty-five years of professional experience, acquired first in Switzerland as a scientist in applied research, and then internationally, working as a chief of project or a senior manager, with long-term assignments in Burkina Faso, Ivory Coast, Mali, Haiti, Nepal and Sudan. He has extensive field experience in Africa, the Middle East, Far East, South Asia and the Balkans. He was previously employed by the ICRC, SKAT_Consulting, the Swiss Agency for Development and Cooperation, and the NGO Helvetas.
Geologist and Hydrogeologist
Marie-Caroline is a geologist (PhD) and hydrogeologist (MSc) with 10 years of experience in water quality, combining field and laboratory work, characterization of pollution and solutions elaboration. She started her career in Chile, working for a private company where she was in charge of studies to assess the environmental impact of extractive industries, and then carried on in Geneva, where she is from, working for the Geological Service of the State, before joining DROPSTONE in June 2019. She is now very much involved on the hydrogeological projects of the company in Switzerland.
cartographer and geomatics specialist
Javier graduated in cartography and geomatic sciences at the Metropolitan Technological University of Santiago in Chile. He has more than 15 years of professional experience, gained first in Chile as a cartographer and GIS specialist for the National Geological Survey and the extractive industry, and then in Switzerland as an IT specialist and GIS analyst. Javier joined Dropstone's team in September 2020 and brings his support in the production of georeferenced maps, underground water models, and also the organisation and planning of field campaigns. Javier speaks Spanish, French and English.
Hala Moughanie is Dropstone's partner. She is based in Lebanon and has 12 years of experience in public strategy building on local and national levels in addition to public reform and public governance. Her work experience also covers the design and implementation of development projects, project management, networking and communication strategies, coordination and monitoring & evaluation activities. Hala is the managing director of Madina for Service Development, a consultancy firm founded in 2016 with a mission to support public institutions in enhancing service provision. She collaborates with Dropstone since 2018 and has provided her support for several evaluations executed in Lebanon, Mali and Burundi (picture courtesy Karam Ayach).
Maud Krafft is consultant to Dropstone. After an MA in political science, Maud spent 20 years working on behalf of the Swiss government. She focused on refugees, migration, culture and public health matters. She then became the country representative of Swiss NGOs in South East Asia and West Africa. She is senior consultant since 2016 and provides advice to institutions, NGOs and the private sector on program management, evaluation, institution building and strategic policy. She is particularly well-acquainted with West and Central Africa (Mali, Niger, Burkina Faso, Rwanda, Senegal, Central Africa) thanks to her field missions. Maud's working languages include French, German, English and Italian. She collaborated with Dropstone on projects implemented in Senegal and CAR.
Georges has over 33 years of professional experience with the ICRC. During his 25 years in the field, he has been directly involved, at various levels – from delegate, team leader, coordinator to head of delegation and finally regional director – in the analysis of the protection needs of affected populations arising from violations of IHL and Human Rights in various complex contexts; then in the design, implementation, coordination and supervision of protection programs and activities, taking into account the realities on the ground, the capacity of local authorities as well as the programs developed by other actors present. Georges participated in the feasibility study mandated by SDC in Mali with Dropstone."
Shukhrat has more than 20 years of professional experience on a multiple of comprehensive projects that contributed and helped the Government of Tajikistan transform its water sector management with application of IWRM principles across Tajikistan's river basins. He has managed projects that supported water sub-sectors of drinking water supply and sanitation, Irrigation & Drainage, watershed management, disaster risk reduction and mitigation, environmental protection in fragile contexts of climate change, inter-stream water conflicts, and water use inefficiencies and scarcity. Shukhrat's experience and expertise ranges across various sectors, primarily in livelihoods improvement, WASH strategy and development, Water Sector Reforms, and agriculture. He has acquired solid skills in projects development, implementation, monitoring and data management, as well as programs evaluation. Preparation of policy briefs, case study and feasibility reports had been one of his regular products.